The Changelog of Early July 2022
Posted on by Kody
Category: changelog
---
Hello everyone! I'm back from two weeks of vacation and here's the third changelog blog post. Not much but oh well.
---
New Mastodon branding
Mastodon just got a fresh coat of pain with a change on its branding.
Less blue, more purple. Just in case you feel like something changed…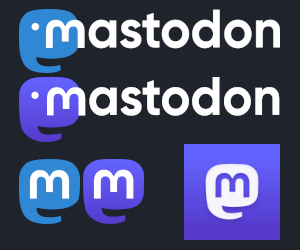 WebP uploads
Not a popular file type these days. I've seen quite a lot of people complain about WebP mainly because their default image viewer can't open it when they want to view an image they just right-click > save'd from elsewhere on the Internet.
I mean, it's a format meant for display on a web page, not for your own use.
So get qimgv and enjoy re-uploading those to Mastodon since it's now supported!
We can also use that for custom emoticons… but it's been already a thing on im-in.space along with svg for a while. 🤫
UI updates
With the Glitch flavor, the post language is now displayed… And honestly, I'm not a fan of that and might just remove them. What do you think? Tell me at @kdy!
And great, now we can see how posts aren't properly labelled.

Also custom third party themes got updated, if you notice something wrong with them please tell us so we can work on a fix.
---
And that's it for today. I hope you all have a wonderful month of July.
And don't forget to keep yourselves hydrated, it's quite hot outside these days!
  - Kody